Alexander Reichert
April 28, 2022
The Risks of Being 'Late to the Party' in Digital Ag
Collin Phillip, Country Manager – Canada, suggests those waiting to embrace digital tools risk being left behind.

Innovation has always been a core aspect of agriculture. From mechanization, to the improvements in genetics and biotechnology traits. 
The most recent innovation frontier is the abundance of digital tools ranging from satellite imagery to predictive analytics or retail portals. 
By 2025, the next frontier of digital tools will have the industry no longer asking, "why would I need digital," but wondering, "how do I operate without it?"
Digital Agriculture is About Working Smarter Not Harder 
Change happens when the risk of doing nothing becomes greater than the risk of embracing the change. 
The significant changes that the industry saw from technological advances in machinery, genetics, and chemical innovations have mostly run their course. The days of 10-bushel yield advances from these technologies are a thing of the past with most crop inputs today essentially parity offerings. 
Digital agriculture is ready to keep the sector moving forward, rather than risk stagnation.
Today's growers, retailers and manufacturers can no longer bet on their competitive advantage coming from crop inputs.  Rather they must find their profit, differentiation, and competitive edge by utilizing the range of digital tools that the agtech evolution has to offer. 
The Digital Flywheel
It is unlikely that the designers of Google Maps envisioned a tool that could help predict the busiest time of day at a particular location. 
However,
as users began engaging with the software it created a data set of new information which in turn created new insights. Not only can you find the quickest route to your destination, but you can beat traffic and the crowds too.
From that example, w
hat are the things we've not yet imagined digital can do for the agriculture community?
That's an enticing question.
There have been many recent announcements of ag companies partnering to build platforms to utilize new data points. 
As industry players begin to embrace and use digital tools they shape, contribute, and aggregate data in a way that allows for new and powerful insights to be extracted. The more these tools are used, the smarter they become and the more incremental value they provide. 
That's the fundamental "why" of digital tools — digital is a self-fulfilling prophecy of value creating more value.
The momentum will continue to build. 
The Momentum is Building for Digital Ag 
It's hard to imagine an industry more complex, diversified and positionally primed to reap the unique benefits that data analysis, artificial intelligence and digital tools can provide than agriculture.
Back in 2010, industry forecasts suggested growers would be slow to adopt smartphone technology. Smartphones seemed, at face value, a great technology to benefit the very busy nature and long hours this industry requires, so why would there be a delay?
Those forecasters had it right on the lag in timing but they fully missed the mark in how fast and thoroughly the industry would make the change once smartphone tech finally made sense for them. 
The agriculture sector essentially skipped the incremental advances in smartphone tech that other industries experienced — aka the Blackberry. Practically overnight folks went from flip-phones in the tractor that could only be used for calls, to smartphones that could allow for real-time research in the cab. 
The same will be true for digital tools across the industry going forward. Whether it be satellite imagery, predictive analytics or retail portals. 
Tools that offer immediate and tangible value to the industry will see rapid adoption while those that don't will struggle to gain and maintain user adoption. 
Technology Adoption Lifecycle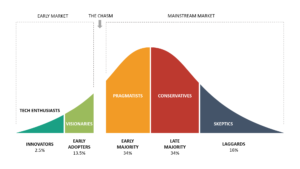 Based on the
technology adoption life cycle
, we would say that ag is in that early adopters stage. There are a plethora of different agtech solutions, with bold promises to change how the industry operates. 
But the challenge will continually come back to the topic of adoption. 
But, as digital tools become more prevalent across the industry it will become an ongoing flywheel that further accelerates the development of and need for these technologies. 
The Next Inning For Digital Ag 
Ag is still in the early innings of digital adoption. But the speed is accelerating. 
Growers have been calling for an improved digital experience for years now. Companies are only starting to meet them there. 
The next big wave of adoption will be defined by improved flexibility and better integrations that will allow the industry to advance as a whole. 
This will bring in the "Early Majority" that are driven more by a strong sense of practicality. Not just adopting digital agtech for the sake of it, but because it has strong ROI that will fundamentally improve the operation. 
That "Early Majority" is ready, but it's up to the industry to integrate,
improve interoperability
, and create platforms where data can be viewed holistically, not in isolation. 
But those who choose to pass-over innovation, do so at the risk of becoming obsolete while their neighbors surge ahead. 
The question really is not whether or not to adopt digital tools but rather what price one is willing to pay should they arrive late to the digital party? 
Those at the forefront of the digital age revolution will lead the change, shape the transformation to best suit their needs, and, by doing so, reap the greatest share of the benefits.
—
AgVend is the leading digital enablement partner for agribusiness. Our white-labeled information, communication, and commerce platforms are designed to strengthen the relationship between the ag distribution channel and their grower-customers. The AgVend team is composed of individuals with decades of experience in agriculture, digital marketing, and enterprise software for the Fortune 500. Headquartered in Austin, TX, AgVend operates a distributed organization model with local coverage in all major US and Canadian ag regions.