Pat Sullivan
July 29, 2020
Why Omnichannel Experiences Beat Transactional eCommerce in Ag Retail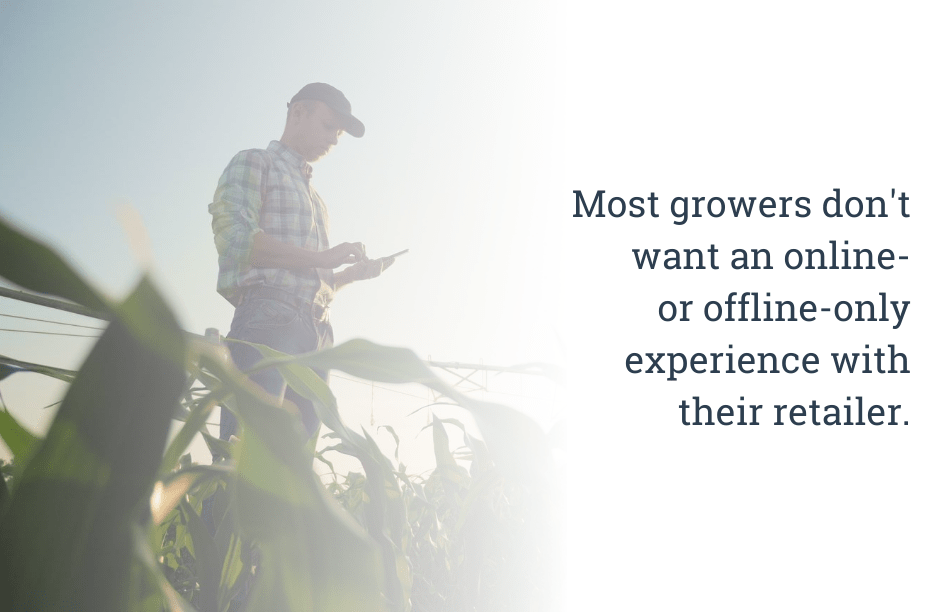 A "Sputnik moment" is when a group realizes that they're threatened by the technological developments of a competitor and have to double down on their efforts to catch up. The term comes from when the Soviet Union launched the first satellite, the Sputnik 1, beating the USA into space. Similarly, the entrance of Farmers Business Network into selling crop protection caused concern for many ag retailers. While calling the entrance of FBN a "Sputnik moment" would be giving them far too much credit, it did cause the industry to re-evaluate a few long-standing beliefs about the way growers want to do business.
The immediate focus in ag retail circles became the pivotal online transaction. Retailers began to ask how much business they would lose to eCommerce-only third parties that were selling products at discounted, no-service prices. While this was a practical question at the time, the landscape has since shifted.
The majority of growers do not want to purchase from an eCommerce-only retailer, but they do want part of that experience.
Most growers don't want an online- or an offline-only experience. They want to be able to do both and receive the same level of service and value, which is known as an omnichannel experience. While growers may not use that term, this is exactly what they're looking for. It's integrating in-person and online channels for growers to engage how they want, when they want, and where they want, while having a seamless experience regardless of the channel they choose to do business.
As consumers, growers have been trained to have increased access to information and visibility into their orders, and they are starting to expect the same from their ag retailers. Beyond the online transaction, digital tools can help deliver this experience before and after a purchase is made.
Pre-Purchase
A McKinsey study found that when in the early research stage, 45% of growers prefer a digital experience over interacting face-to-face or on the phone. Whether browsing alternative fungicide options or checking the price and availability of urea at midnight, many of your customers will utilize an online channel.
Yet, when making a first-time purchase, 67% of growers prefer an in-person transaction. When questions arise around product options or planning, 78% of growers reach out to their ag retailers in-person or through a phone call.
These situations are not unique to agriculture. A similar study of the banking industry revealed that 80% of all bank customer touchpoints were happening on digital channels. Yet, online transactions only represented 25% of sales. Even as these new channels are enthusiastically adopted by customers, most sales are still "manned," involving human-to-human interaction.
View the "Omnichannel Era in Ag Retail" white paper here to read more about the studies mentioned above.
Post-Purchase
In ag retail, after the research has been done and the order has been placed, the need for information sharing is even greater than in other industries. In conventional retail, 66% of consumers say that a positive experience with the status and expectations on delivery from a company is a deciding factor in their purchasing experience. For growers, a clear understanding of delivery or application of their order is even more critical, as it can impact their bottom line.
A digital platform, like the AgVend powered Grower Portal, can provide growers with increased visibility on their order status and access all other relevant information post-purchase. Whether it's pulling up a product label and the rate recommended by their agronomist or downloading their statements for the past year to take to their accountant, a digital platform can put this information at their fingertips.
Two sides of the same coin: digital commerce can enable your sales team.
eCommerce isn't the threat it was initially perceived as. Ag retailers with a Grower Portal powered by AgVend typically find that for every one online order, there are more than twenty transactions that originated online but were completed in-person.
A digital platform will not shrink your sales team's value, and it will enhance it by enabling them to increase the number of growers they serve and heighten the level of service they provide.
Your sales team is busy. However, handling contracts, checking credit, and submitting orders are not the types of activities that provide outsized value to their grower customers. Incorporating a digital platform to support these activities will free them up to spend more time helping growers boost their yields and maximize their profits.
Creating efficiencies
Despite the hype around market disruptors, the ag retail industry will not be fundamentally changed by eCommerce-only competitors. Grower customers have been conditioned to use technology in their day-to-day work, and are now looking for more efficient ways to interact with the retailers they already know and trust.
While there hasn't been a true "Sputnik moment" for the industry, it's never too late to take steps to elevate your customer interactions into an omnichannel experience.
—
AgVend powers the omnichannel experience in agriculture. We provide ag retailers with white-labeled information, engagement, and commerce portals. Our suite of products is designed to strengthen the relationship between ag retailers and their grower customers. The AgVend team is comprised of individuals with backgrounds in agriculture, digital marketing, and omnichannel retail, and operates from dual locations in Minnesota and California.