Alyssa Speake
October 2, 2023
Tronia – AgVend Partnership Ushers in New Digital Era for Independent Canadian Ag Retailers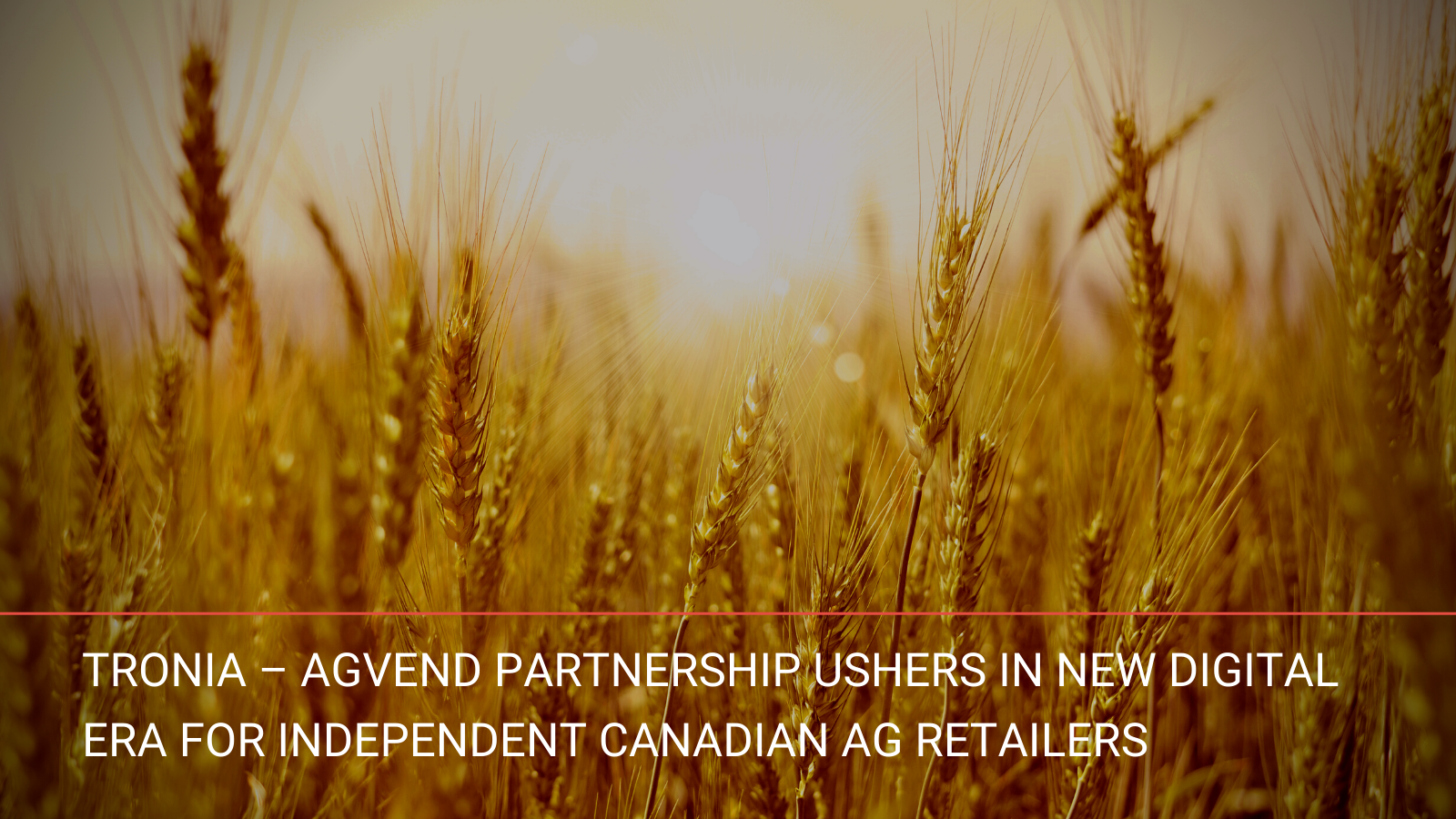 This news was originally shared by Tronia Systems.
---
St. Albert, Alberta, Canada – October 2, 2023 – Tronia Systems, Canada's leading ag retail financial management system, announces their partnership with AgVend, the leading provider of digital enablement solutions for agribusiness. The collaboration unlocks access to AgVend's white-labeled system of action for more than 400 retail locations currently using Tronia's agrē ERP software.
"As the industry evolves, we're actively adapting to meet customer needs," Anita Marghella, Vice President of Business Development at Tronia, said. "This partnership allows us to leverage our strengths and AgVend's expertise to provide optimized outcomes for customers in critical areas outside of our primary focus."
With this integration, users of Tronia's agrē system can now harness the power of AgVend's Team Hub and Customer Portal to streamline workflows and derive actionable insights. Since launching in December 2022, shared partners have seen more effective sales conversations and improved process efficiency for both internal teams and their customers.
"We needed a better way to communicate and leverage data housed in agrē on a day-to-day basis," Cassandra Morari, Chief Operating Officer at The Rack, a Saskatchewan based independent ag retail business, said. "This partnership gives us an advantage that rivals large scale businesses and helps our team make efficient use of our time."
The collaboration between the two companies is designed to address ag retail's critical need for seamless integration between mission-critical technology systems to unlock enhanced customer-advisor relationships.
"The collaborative nature of this partnership has been rewarding and contributed to a smooth integration build," Tracy Linbo, Chief Commercial Officer at AgVend, said. "This partnership paves a clear pathway for ag retailers in Canada to embrace digital enablement with confidence and optimism."
Together, Tronia and AgVend are charting the course for a brighter and more technologically connected future for agribusinesses across Canada.
---
About Tronia Systems:
Tronia Systems is a privately owned technology development company headquartered in St. Albert, Alberta, Canada. Tronia's primary focus is providing advanced business solutions to retails who sell fertilizer, crop protection, seed, hardware, fuel, manage grain terminals, & provide agronomic services. We have been a partner of the agricultural community for over 30 years. Our business focuses on providing unique and progressive solutions geared specifically towards the ag retail industry.

In 2001 we began offering our software as a Hosted Service and this has become the most common way for our customers to implement our solutions. In 2007 we released the next generation of our business management software, the agrē solution, which has become the most widely used ag-retail financial management system in Canada.

And we haven't stopped there – we continue to grow and evolve so that we can consistently meet the needs of our customers well into the future.

The reason for Tronia's success is simple: we listen to our customers. Our company is founded on the idea that our customers' expectations should always be exceeded.
About AgVend:
AgVend is the leading provider of digital enablement solutions that transform the way agribusinesses operate and engage with customers. Through a robust integration ecosystem and white-labeled platform, AgVend's system of action streamlines workflows from field to office, enabling frontline teams to offer more efficient, differentiated customer interactions.

Since launching the first platform in 2020, AgVend's technology has been adopted by agribusinesses who represent more than 23% of the North American ag input, grain, and energy markets.

And we haven't stopped there – we continue to grow and evolve so that we can consistently meet the needs of our customers well into the future.

Headquartered in Austin, TX, AgVend operates across all major North American agricultural regions.