Pat Sullivan
January 24, 2020
Onboarding: The Key to Adoption and Engagement of Your Digital Strategy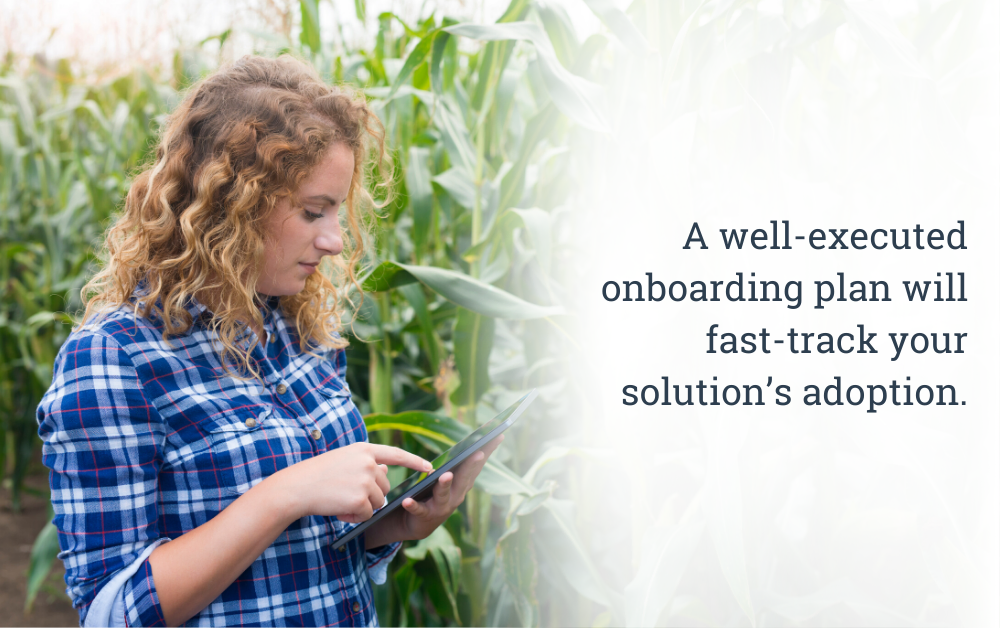 As an ag retailer, you go out of your way to help your customers. You've delivered fertilizer at 2 AM so a grower could finish planting before a storm, called every distributor on this side of the Mississippi to find that one product for that specific pest, and spent hours researching a new seed treatment that could help your grower with their Fusarium problem. Now, you are your organization's champion in creating a digital strategy, and you want to provide the most seamless omnichannel experience possible for your growers. In order to do this, your business must blend your physical and digital channels to provide your growers with the same great service and value regardless of how they choose to do business. An integrated digital tool coupled with your human assets unlocks this experience for your customers.
As one of our partners puts it, "The Grower Portal is helping Valley Ag digitally engage our customers in new ways and allowing them to do business with us how, when, and where they want, in ways that are oftentimes easier or quicker than traditional means." says Connor Lankford of Valley Ag.
A foundational element of a strong digital strategy is choosing the right technology partner. We discuss what makes a best-in-class technology provider more here, but a key characteristic that sets providers apart is their level of account management. As experts in digital solutions, they should be assisting you in implementing a comprehensive onboarding plan for both your internal team and your customers. In order for your customers to adopt the solution, your team has to be comfortable using the technology, fully bought into the 'why' behind the initiative, and understanding of the value it can provide them.
How do you make that happen? It begins with a dedicated account manager whose responsibility it is to guide you through a clearly-outlined onboarding process.
Account Manager
From the day the contract is signed, you need a partner that will help you understand the process, identify your stakeholders, and communicate the course of action to your entire team. This person works with you to guide your team, making your digital transformation as smooth as possible. They provide the tools, milestones, resources, and best practices from industry experience. The knowledge they bring and help you share out to the entire organization will encourage adoption among your sales team and growers.
In addition, a great account manager engages your team directly throughout the onboarding process. They leave space for questions, feedback, and ideas for new features. Their goal is to ultimately aid you, the champion, in building consensus throughout your organization.
Clearly outlined onboarding process from day 1
Your account manager will also be able to help you build out a comprehensive onboarding plan. This is your team's roadmap to getting your solution fully functional and implemented throughout the business. This process should include:
An introduction to the tool

The account manager will provide a technical overview to your stakeholders. More importantly, they will share best practices and help you explain the "why" behind this strategy.

Set milestones that will lead to the on-time launch of the tool

Determining and meeting deadlines is crucial to an on-time and successful launch. Knowing when items like the ERP integration, branding materials, agronomist meetings and more need to hit will help keep everyone accountable.

Clearly outlined deliverables from internal teams

Launching a digital tool requires different internal teams to assist with certain components. Ensuring that the DNS records are properly set up, approving design work, and importing contacts, for example, are all important for an on-time launch. These deliverables should be clearly outlined from the start to avoid confusion.

Identifying the key champions within the company

Having a champion at every location or at least in every department leads to better adoption of the tool. It is important to identify those individuals and spend time training them on the technology. From agronomists to operations teams to the back office group, ensuring the team is comfortable with the tool is a top priority. Having the right people in place to organically evangelize the message will help you achieve that goal.

Education and development plan for your customers

Once the internal work has been started, it's time to announce your new platform to your growers. You can get a group of your customers together in-person to introduce the tool, plan an introductory webinar, and provide printed materials to help them gain understanding of the technology.

Tailored launch plan

Not every business should have the same launch plan. It may need to start with one region or a specific segment of growers. Your account manager should work with your team to curate a launch plan that meets your business needs.

Defined success metrics for a strong launch and adoption

When a digital strategy is launched, many assume that you define success by the number of transactions that go through the tool. But omnichannel platforms enable much more than simply transacting digitally. Your account manager will help you define success metrics across the organization that focus on a comprehensive view of digital touchpoints. The number of growers that accepted the invitation within the first 30 days, the average number of invoices paid on a weekly basis, and agronomic plans that were viewed during the season are all important numbers to look at. These are the type of success metrics that your account manager will help you define for your business.
With the basics of the onboarding plan in place, you can turn your attention to aiding in accelerating adoption and increasing engagement by leveraging curated digital marketing strategies pre- and post-launch.
Digital marketing support
One of the key tools for driving adoption of a grower portal is awareness and education through digital marketing. This strategy can be highly customized for your organization which can be overwhelming. There are a lot of components, lots of metrics, and varying channels to be learned.
Having the support of someone who understands your business to help guide you through this communication will increase your adoption rate before you even launch the tool. Educating your customers through digital marketing will help them understand what the platform has to offer, how they can use it, and that their level of service and agronomist relationship isn't going to change, for example. Digital marketing initiatives are also essential to continuing engagement with the solution after it's been launched.
A well-executed onboarding plan will fast-track your solution's adoption.
At the end of the day, it isn't just the technology that makes a digital initiative successful. Having a flashy app won't increase the adoption from your sales agronomists or growers. Your team needs to be extremely comfortable with the technology and be excited to communicate its value to your customers. The process of getting your organization onboarded might feel daunting today, but the right technology partner has the experience to make it a worthwhile process that adds substantial value for your growers.
—
AgVend powers the omnichannel experience in agriculture. We provide ag retailers with white-labeled information, engagement, and commerce portals. Our suite of products is designed to strengthen the relationship between ag retailers and their grower customers. The AgVend team is comprised of individuals with backgrounds in agriculture, digital marketing, and omnichannel retail, and operates from dual locations in Minnesota and California.