Anna Cardoze
August 11, 2020
Leverage the Efficiency and Convenience of Online Payments in your Digital Strategy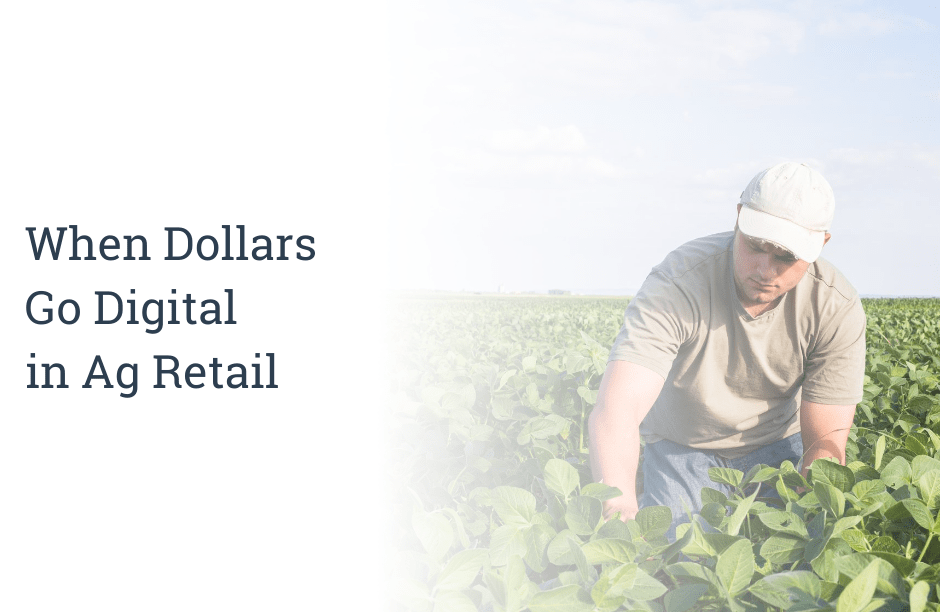 Whether you are searching for toilet paper, a new shirt, or something completely random, Amazon seems to have it all. Better yet, (or more dangerously yet), you can purchase a product in just one click before you even have to think about what your CVC or billing zip code is. These digital conveniences are also becoming more widely available for making larger purchases. Automaker GMC now allows you to do any part of the vehicle-buying process online through their "Shop-Click-Drive" program. As consumers, we have come to expect fast, organized, and easy payment options in all areas of our lives, whether we're buying toothpaste or a new pickup. Similarly, growers expect the same convenience when paying bills or ordering products from their ag retailer for their operations.
Vijay Sondhi, CEO of NMI, a commerce enablement company, said it best,
"The best payment experience is the one that feels like it never happened, because it is so integrated with the customer's interaction with the merchant."
Not every farm has the same level of technological sophistication, but ag retailers can optimize the logistics of transacting and financing for the majority of their growers. The ag retail industry is feeling the effects of the COVID-19 pandemic (as noted here in CropLife). Growers are looking for different ways to interact with their trusted retailer, and it's time to give them the omnichannel experience that they have come to expect as consumers.
When we think about ways that digital tools can have an impact across your growers' operations as well as your business, account management instantly comes to mind. Tedious accounting and bill paying tasks have historically stolen time away from operational decisions and planning. Lunch with an agronomist is rescheduled to prep financials for meeting with the banker. A customer has to skip your grower meetup to handle a bookkeeping error during tax season. Human interaction gets pushed aside to handle inefficiencies that could be solved with the addition of a digital platform.
Manual processes are slowly shifting to become more efficient, and with the right suite of tools, ag retailers can accelerate that transformation for their growers.
You'll serve your customers better while reducing the friction of account management, both of which are beneficial to your bottom line.
How can a digital initiative benefit your team and your customers?
1. Reduce costs
The cost of processing invoices can be lowered by over 80%, according to Sterling Commerce, when customers have a digital option to view and pay bills. Additionally, this helps to eliminate the back office shuffle of paper and stamps when it comes to preparing paperwork and recording payments.
2. Give customers their #1 requested feature
Your customers are accustomed to paying their other bills online, and they want that same ability from your business. Our Grower Portal partners see an average of 50% of users pay at least one invoice online within the first 60 days, with the majority coming through the mobile app. Growers are able to download their invoices as an excel file that they can then quickly upload to their financial bookkeeping system, like Quickbooks, and save them time when it comes to tax season.
3. Get paid quicker
Invoices and statements sent through the mail look something like this:
The invoice or statement is printed at the office.

Then, it is put into the mail and sent to the grower.

A few days later, the grower gets the invoice or statement and reviews the information.

Next, the customer writes a check or maybe they call the office.

If they write a check, they put it back in the mail and it finally gets back to the office in another few days.

Lastly, your team deposits the check and it's in the bank.
That entire process often takes close to 30 days to get payment returned to you. But with a digital option, you are paid in a matter of minutes.
4. Paperwork simplified
As a value-add to your growers, you may offer in-house credit. If this is the case, your sales team is likely carrying around stacks of paper credit applications and your finance team has to remind them to submit them for the growers. But with a digital tool, you now have that same paperwork available online. This gives your sales team one less thing to keep track of and allows your business to get approvals back to your customers even faster.
There are several key benefits utilizing a digital strategy in your ag retailer business, but it is essential to keep your customer in mind when building these tools. Traditional retailers have been working to improve transaction ease for years. While ag retail and consumer retail are not carbon-copy business models, there are still lessons to be learned between the two.
Agriculture can take notes from home improvement retail juggernauts, Lowe's and Home Depot, for how they add this value to their customer segments. In their intense rivalry to win the business of general contractors, subcontractors, and local construction outfits, they've created their own digital solutions. Their portals are designed to assist customers with transactions and continue to bring value in new, innovative ways.
Beyond basic business credit, Lowe's for Pros has a "Business Replenishment Program" and offers many bulk discounts and contractor packs. Dedicated Pro Team Members work with contractors on special and personalized offers. In their portal, purchase tracking is a breeze. Thus, creating that transparency that consumers expect in retail. Similarly, when using a digital invoice payment option in an ag retail setting, the grower gets instant updates when they have a new invoice or statement available. Once that invoice or statement is paid, there are immediate updates to the retailer's ERP as well as to the customers account. These automations simplify the process and keep transparency along the way for both parties.
Not to be outdone, Home Depot's Pro Xtra program matches their competitor's portal across most features and then some. Dedicated field support enhances the customer's experience, while exclusive events and resources build up local customer relationships. When coupled with a world-class mobile app, Home Depot's early innovator status in retail has been emulated across a variety of retail segments beyond home improvement.
A digital account management option for your ag retail business is an integral part of having an omnichannel experience for your customers. Providing them with easy and efficient access to invoice payments, credit applications, and product purchases won't just make life better for your growers, but also your team. When a digital initiative is implemented with a well-planned strategy, it will save time, provide instant access to information, and streamline communications for everyone involved.
For more insights like this, view the "Omnichannel Era in Ag Retail" white paper here.
—
AgVend powers the omnichannel experience in agriculture. We provide ag retailers with white-labeled information, engagement, and commerce portals. Our suite of products is designed to strengthen the relationship between ag retailers and their grower customers. The AgVend team is comprised of individuals with backgrounds in agriculture, digital marketing, and omnichannel retail, and operates from dual locations in Minnesota and California.