Alexander Reichert
October 28, 2021
How to Build a Digital Strategy in Ag Retail That Prioritizes Both Your Customers and Your Team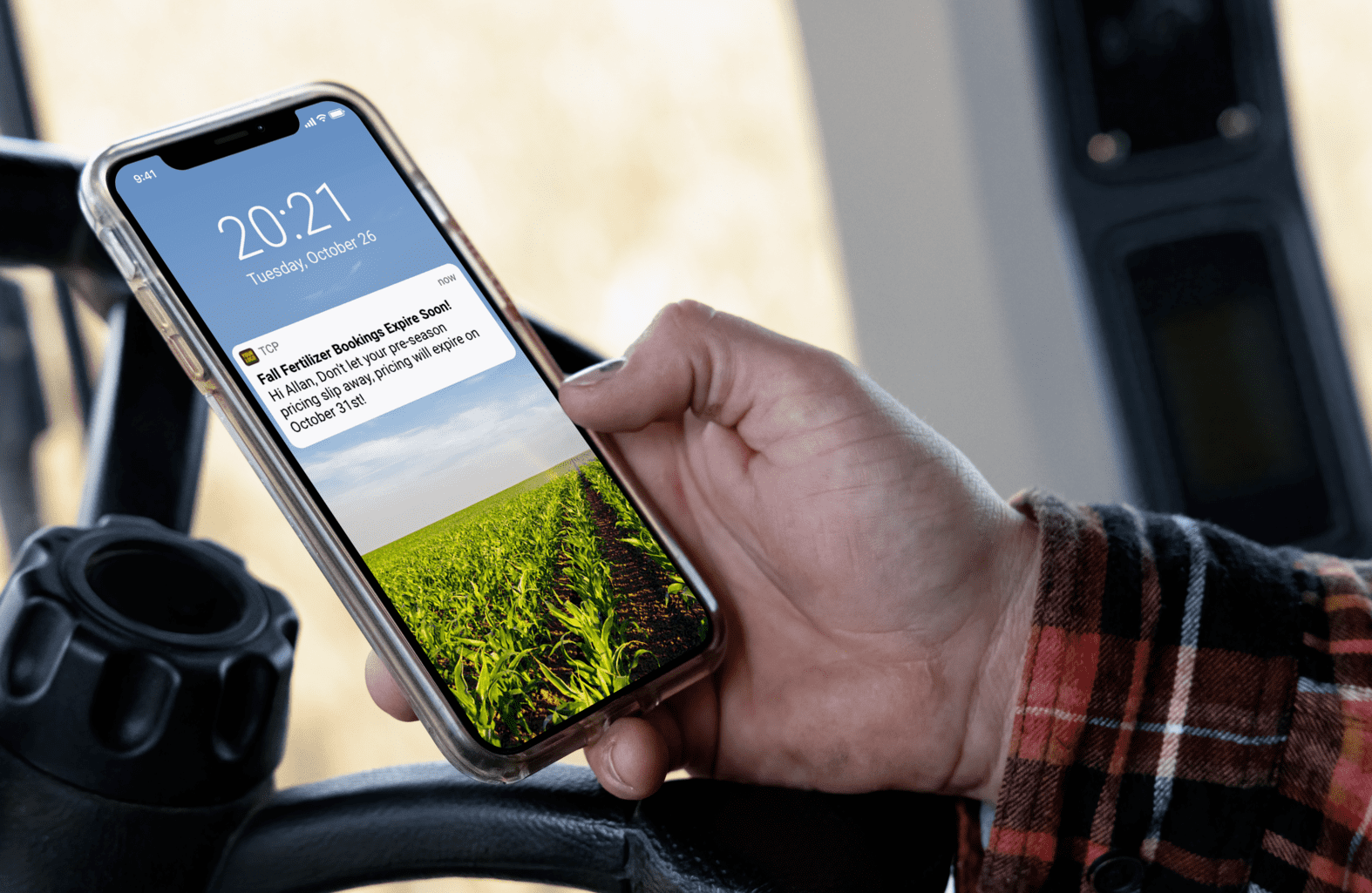 There is a lot of noise surrounding the phrase "digital strategy" — how to build one, what to include, what to stay away from, who to partner with, best practices that seem to change by the day, and on and on.
This is the third installment of a four-part series (read eCommerce Alone Won't Cut It for Ag Retailers and Just Adding an App Isn't the Answer in Ag Retail's Digital Transformation) to help ag retail leaders navigate defining and implementing their own digital strategy.
Come for the Grower Experience; Stay for Your Internal Team Functionality
At AgVend, when we have conversations with new prospects, they're often focused on what our technology can deliver for their producers. And for good reason: their customers have made it known that, in addition to an in-person relationship, they want to have the option to do parts of the purchasing process through their retailer's app.
Improving the grower experience is a significant component of what we offer with our solution. But people are often surprised when they hear that our Partner Retailers see the greatest direct value of the platform with their teams, not necessarily their customers. These are tools for sales reps, agronomists, merchandisers, and admin staff that complement existing ERP systems and help organizations transform the way they go-to-market.
The gains from these features come in many forms. For example, increasing a retailer's ability to better navigate supply challenges with real-time visibility into inventory and product alternatives. Or helping companies attract, retain, and maximize the efficiencies of their sales teams by cutting out low-value work and replacing it with high-value touch points. Ultimately though, these advances indirectly, and at times directly, lead to improved customer experience.
Prioritizing the Tools Your Company Needs
So you see that technology can help your team manage supply challenges, make reps more efficient, improve employee retention, and even lead to more satisfied customers.
But where do you even start?
While every ag retailer is different, there are a few key pieces to consider in your strategy, regardless of where you are on your journey:
Digital Planning, Recommendations, and Orders
Better communication and visibility with your customer is paramount in today's world. When your growers have access to their information, they feel more in control. No more misplaced notepads with how much urea they decided to book or what they sprayed on that field. Instead, they can go directly to your app and view their account(s) in your portal.
This is great news for your internal team too. When growers have access to the details they need, it cuts down on phone calls asking simple (but still time-consuming) questions, and frees your staff up for more of those high-value touch points.
Easy in-app order placement by sales reps can be especially impactful. It removes a redundant back office step, which allows admins to focus their time in other areas. Additionally, it can significantly reduce the chance of errors.
An AgVend Partner Retailer in the CropLife 100 decided to mandate all orders be placed through their digital Sales Hub. This came on the heels of losing over $100k due to a handwritten fertilizer order from July, which got lost on a desk, and entered months later in October. With the big swings in the fertilizer market over the past 3 months, this was a costly error.
Digital Messaging
Digital messaging is a simple, effective way for retailers to connect with growers during the busy season.
During busy seasons, emails, flyers, and even phone calls won't get the job done. Look for means of communication that your team can readily use as a medium to connect with their customers. This could be as simple as an individualized group text message or app push notification to growers.
In a recent example of using digital as a key communication tool during these supply challenges, KC Graner, SVP of Agronomy at CFS, explained, "With rapidly changing markets, instantaneous communication is crucial. To help customers lock in the best opportunities, we sent bulk text messages from our AgVend Sales Portal directly to our growers this fall reminding them to pay any unpaid bookings in order to get their quoted price."
In addition to sharing information with growers, communicating within the organization should be just as easy for leadership, whether at the head office or at the location level. Setting up and sending these messages to your team should be streamlined and simple.
Graner continued, "We also sent messages to our sales agronomists reminding them to follow up with specific customers who had not yet prepaid their bookings. Agronomists are just as busy as customers and they all appreciate the quick and easy communication features we have with the portal."
Resource Centers and Smart Alternatives
When it comes to making your sales team's lives easier, a center for information in an accessible tool they are already using regularly is a good step. Staff can look up key product details or learn which options are good substitutes.
And in an era when supply constraints are common, a platform that automatically recommends alternative products and provides positioning terms to your reps when something is out of stock is crucial.
CRM
Those three letters can be highly-charged for sales teams, regardless of industry. Too often, employees see a CRM as purely a staff management system that monitors an individual's every move. When that's the focus, it's no wonder CRM has a negative connotation.
But well designed and implemented CRMs can be a sales rep's favorite tool when it helps them better serve their customers while saving them crucial hours in their day.
So what to look for when implementing a CRM?
Centralized customer information: When your team can access all the details about a customer via a mobile app, they can answer questions quickly and more thoroughly; making them better prepared for meetings in less time. Additionally, when the CRM can bridge business units and provide a single view of the customer it unlocks key cross sell opportunities (i.e., identifying top producers on the agronomy side who don't deliver any grain to your elevators).

Has strong admin capabilities: Keeping notes, setting calendar events, and adding reminders are all table stakes for a quality CRM. These features ensure your team stays on top of their customers. But they must be intuitive and fast to access.

Recognizes opportunity: A truly differentiated CRM takes on the role of a co-pilot, not simply another system that requires high up-front work to get any value out. This intelligence can come in the form of alerting sales reps their grower has been actively watching fertilizer movements this week, or highlighting that for the past five years their customer sold grain during this time of year. Having a digital system in place that automates those notifications enables reps to easily keep on top of opportunities and best serve their customers.
Business Intelligence
A BI tool shouldn't require dedicated analysts or hours of study just to be able to build reports. Additionally, it doesn't need to take an entire day or crash your computer to run an update. Instead, it must conveniently surface insights that help drive better business decisions.
A quality BI tool has:
Approachability: Both leaders and sales teams across your organization will be able to build reports that give them visibility into how to optimize their areas of ownership.

Shareability: It's simple to share reports once they're built. That ease of access cuts down on redundant work and ensures alignment among all the parties.

Scalability: Your business will grow over time, and so should your BI tool. That's why it's important to choose one that integrates with your existing (and future) systems, pulls information across departments, and has back-end capabilities to standardize data inputs.
Success comes when you're able to align your teams around a common direction. Using the right BI tool is an important step to establishing those goals.
Valley Agronomics relies on BI to help their reps get an accurate read on how things are tracking with a customer. Connor Lankford, Precision Ag Manager and AgVend Portal lead, shared "Especially during these times of supply uncertainty, giving our teams visibility into what has been planned vs. what's been quoted vs. what's been actually sold is necessary. Our guys want to make sure their customers are covered."
Ready to Get to Work?
Here is a good roadmap to begin with:
Implement the initial building blocks, like digital orders and recommendations. Show your team the value that technology can deliver to them, personally, which will drive increased usage.

Next comes the natural adoption of more advanced tools like new communication means or automated resources. This will help your reps view the app as a key tool in their arsenal that differentiates the service they provide to their customer.

From there, introducing sophisticated features like CRM and BI become much easier. And the two, when rolled out together, have amplifying effects.

Finally, look to an experienced solutions provider who will act as a partner beyond the technology and help you design the digital journey that fits your organization.
For many ag retailers enabling their business with technology is no longer just a nice-to-have, rather, it's their key differentiator for the years to come. Ensuring you have the right strategy in place means protecting yourself against fluctuating supply chains, attracting (and retaining) the best talent in the industry, optimizing your internal systems, and giving producers the communication and support they're asking for. In these times, you can't afford to compromise on any of those — and a properly implemented digital experience can ensure you don't have to.
—
AgVend is the leading digital engagement platform to serve the producer of tomorrow. Our white-labeled information and commerce portals are designed to strengthen the relationship between the ag distribution channel and their grower-customers. The AgVend team is composed of individuals with decades of experience in agriculture, digital marketing, and enterprise software for the Fortune 500. Headquartered in Minneapolis, Minnesota, AgVend operates a distributed organization model with local coverage in all major US and Canadian ag regions.