Anna Cardoze
November 24, 2020
AgVend Welcomes Seasoned Ag Technology Leaders to its Team
Additions illustrate ongoing commitment to support ag retailers' omnichannel experience for growers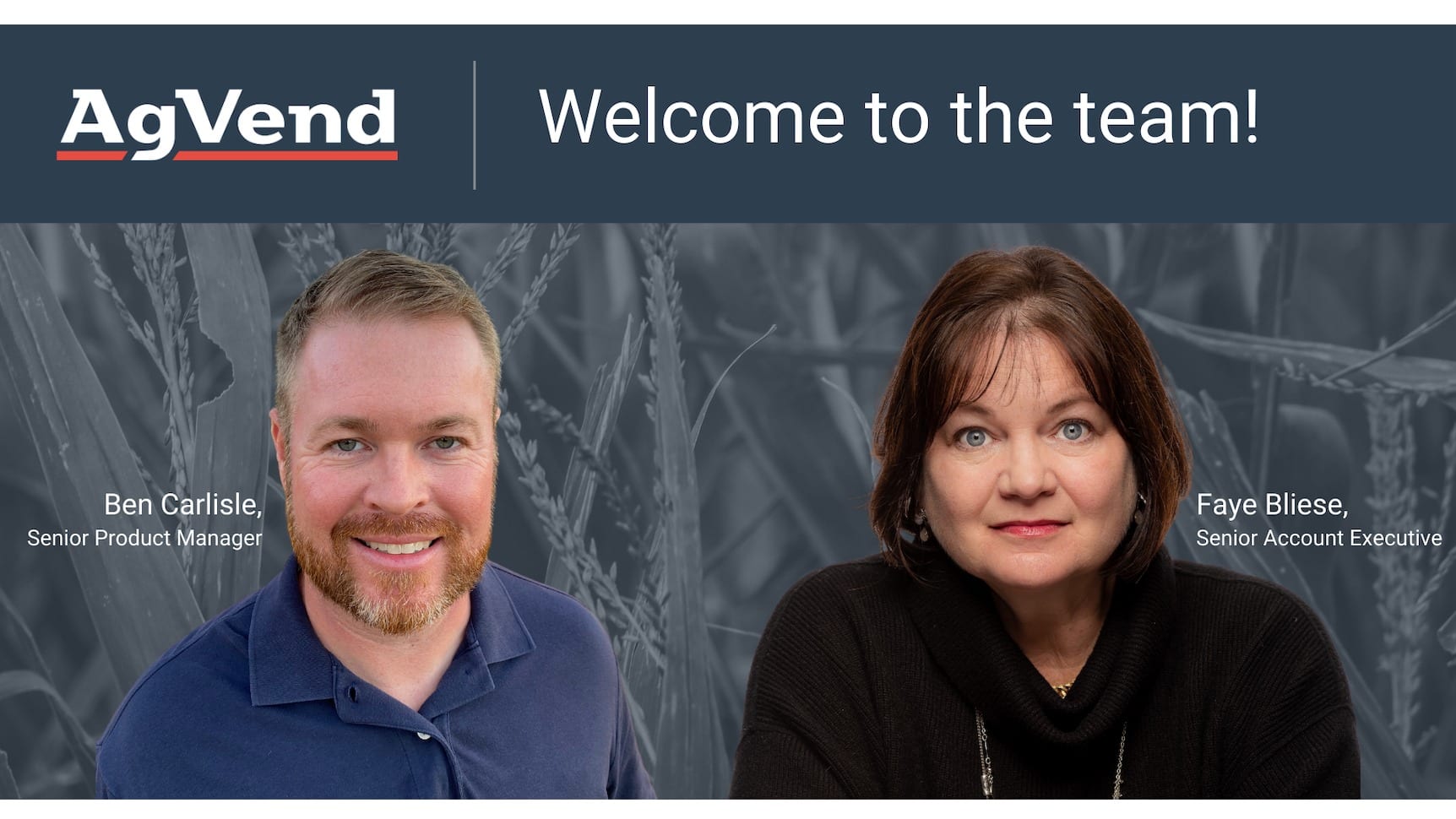 AgVend today announced the expansion of its seasoned digital technology team to include Faye Bliese, senior account executive, and Ben Carlisle, senior product manager. As demand for the company's white-label Grower Portal tripled in 2020, AgVend's growth created new ag tech job opportunities, including technology development.
Bliese joins AgVend after nearly 10 years at Land O'Lakes, where she most recently served as director, digital transformation for the WinField United business. During this time, she led the ATLAS digital platform development team as well as led implementation efforts working with ag retailers and member co-ops, including helping with process alignment, change management, and knowledge transfer. In addition, she brings more than 18 years of integrated marketing and account management experience from several advertising agencies in Minneapolis, serving clients including BASF and Syngenta, among others. She holds a bachelor's degree in advertising and economics from the University of Wisconsin-Madison and is completing her MBA with Jack Welch Management Institute. Bliese has deep ag roots – growing up on a dairy farm and working as a young woman on a canning factory tractor crew.
Carlisle joins AgVend with more than 10 years of ag retail experience working across the southeast. For nearly six years, he served as agricultural technology manager at GreenPoint Ag, working on the frontlines to create the ag retailer's digital vision, then design and implement their overall digital strategy. In addition, he served as agricultural technology specialist for WinField United, helping members to design a digital solution then implement digital tools to best meet the needs of growers. He holds a bachelor's degree in agricultural engineering, technology and business from Mississippi State University and a master's in agribusiness from University of Tennessee-Knoxville. Prior to college, Carlisle worked as a farmhand on Ames Plantation for more than 10 years.
"After several years exploring the right digital solutions to meet the needs of their growers, ag retailers are now implementing their strategies at a faster pace than ever before. At AgVend, we remain committed to making the necessary investments that ensure our partners achieve a successful rollout and scale of these omnichannel experiences," said Alexander Reichert, co-founder and CEO of AgVend. "As we enter the 2021 planning season, we are excited to welcome Faye and Ben to our team and believe that their additions best position us to support our partners on their digital journeys."
—
AgVend powers the omnichannel experience in agriculture. We provide ag retailers with white-labeled information, engagement, and commerce portals. Our suite of products is designed to strengthen the relationship between ag retailers and their grower customers. The AgVend team is comprised of individuals with backgrounds in agriculture, digital marketing and omnichannel retail, with offices in Minnesota and California.